Read Dr. Abelson Blog on Sciatica

Sciatica can arise from many causes. It can range from a dull, annoying ache to absolute agony.

Many cases of sciatica are caused by stresses on the muscles, ligaments, tendons, fascia, joints and nerves.

Sedentary jobs, poor posture, obesity, lack of exercise, trauma or repetitive motion can all cause back pain.
Active Release Technique has revealed that Back Pain and Sciatica is more often caused by peripheral nerve entrapments rather than by nerve route entrapments at the Foramen and Disc.
Significant improvement or resolution in Sciatica cases, within only two or three patient visits, is not uncommon when ART is used to free up the peripheral entrapment sites. In fact, in many of our previous patients that had been diagnosed with disc problems, we have seen complete resolution of all symptoms.
Some of the common sites for peripheral entrapment of the Sciatic nerve can be found:
Between the hamstrings.
Attached to the Adductor Magnus and hamstrings muscles.
Attached to the Superior Gammelus muscle as the Sciatic nerve passes over this muscle.
Attached to the Piriformis muscle as the Sciatic Nerve passes under or through the Piriformis muscle.
Active Release Technique® (ART®) has been shown to be very effective in the treatment of Sciatica. Rather than just addressing just one area, ART® restores unimpeded motion and function to all soft tissues.
See the following topics for more information about ART:
Where can I find more information about ART?
We have recently published the first book about Active Release Techniques, written specifically for the general public.
Release Your Pain - Resolving Repetitive Strain Injuries with Active Release Technique s® (ART®) is an informative, easy-to-read book, that helps you to understand the true cause of repetitive strain injuries.

Did you know that many common therapies (such as medication, physiotherapy, chiropractic treatment, massage, electrical muscle stimulation, rest, exercise, and surgery) have all failed to effectively resolve repetitive strain injuries. RSI sufferers are rarely able to find effective or complete treatment with these traditional treatments! Read Release Your Pain now to understand why these treatments often fail to solve your problem.
Understand the true cause of your pain, learn how it can be resolved, then use the specially designed exercises included in this book to prevent its reoccurrence.
Read our new book, Release Your Pain , to see how Active Release Techniques can help you with your injuries.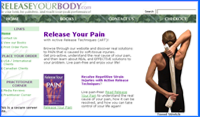 Click the image for information about Dr. Abelson's publications
| | |
| --- | --- |
| Download an information brochure for Sciatica! | |
We provide a series of informative brochures about various conditions that we treat at our clinic. Download any of the following information, and read it at your leisure:
| | |
| --- | --- |
| Read this brochure... | For information about... |
| Active Release Technique | Active Release Technique, and how it can help to resolve a broad range of soft tissue injuries. |
| Sciatica - Back Pain | How to get rid of that killer back pain, and have it stay away. |
| ART and Sciatica | What is the real cause of Sciatica, and how Dr. Abelson experienced an amazing release from pain by applying the ART technique to his sciatica problem. |
| | |
| | |
| --- | --- |
| Book an appointment! | |
| | |