How can ART improve my running?
Read Dr. Abelson Blog on Running

Running Injuries and Repetitive Motion

Running injuries are commonly attributed to faulty biomechanics and errors in training methods.

Faulty training techniques include:

Although these important aspects of a running program should be addressed, runners should also consider the cumulative effect that thousand of repetitive motions have on their bodies.

Even with good biomechanics and excellent training, runners are always exposed to a considerable amount of cumulative trauma . As a marathon runner myself, and as a triathletes for over 20 years, I have felt the effects of cumulative stress injuries caused by running.

Like many runners I sometimes push myself over my limits and then pay the price with either an injury or inflammation of soft tissues.

These injuries can be debilitating and result in reduced ability to conduct any physical activities. Traditional treatment techniques often require months to fully resolve injuries to soft tissue.

In this page:
| | |
| --- | --- |
| About Soft Tissue Injuries | |
Injuries to soft tissue (ligaments, muscles, blood vessels, fascia and nerves) result in inflammation and swelling of the tissue. The body responds to this inflammation by laying down scar tissue (cross fibers on the tissue) in an attempt to stabilize the affected area.
This scar tissue restricts motion, reduces circulation, inhibits nerve function, and causes ongoing friction and pressure, and usually results in the production of more cross fibers and adhesions. Effective treatment of soft tissue injuries requires an alteration in tissue structure by breaking up cross-fiber adhesions and restoring normal function to the soft tissue. This process substantially decreases healing time, treats the root cause of the injury, and improves running performance.
| | |
| --- | --- |
| How ART Works with Running Injuries | |
Active Release Technique is the most effective form of therapy I have seen or used for the treatment of soft tissue injuries and for the improvement of running performance.
Its effects are immediate, often dramatic, and always reassuring. ART lets the runner return to his/her running quickly, minimizes or removes the result of repetitive stress injuries, and results in a freer, more easy run by removing adhesions and cross fibers that restrict normal movement.
During the ART procedure, the Doctor formulates his diagnosis and performs the treatment at the same time. Practitioners must consider tissue texture, tissue tension, tissue movement, and tissue function. Each of these factors can cause the doctor to greatly alter the required treatment.
For example, take the case of a Sciatic nerve that is entrapped between the hamstrings. In such cases, the patient's symptoms are often exacerbated during hip flexion with extension of the knee and dorsiflexion of the ankle. The ART Practitioner can also feel the lack of motion in areas that are entrapped, by the lack of tissue translation.
Once your Doctor has identified the specific entrapment site, and has the lesion (scar tissue/adhesion) under specific contact with his/her hand, the Doctor takes the tissue from a shortened to a fully elongated position, while moving longitudinally along the soft tissue fibers.
See the following topics for more information about ART:
| | |
| --- | --- |
| What Happens After an ART Treatment | |
Rehabilitation remains an important part of the ART procedure. After the ART procedures, we have the patients:
| | |
| --- | --- |
| How Effective is ART for Treating Running Injuries | |
In my practice, working with a broad range of soft tissue injuries, I have discovered that Active Release Technique (ART) to be most effective method for breaking the restrictions formed by running.
Dr. Abelson and Dr. Battershill treating a triathelete for hip restrictions in Kona, for the 2001 Ironman Triathalon.

Dr. Abelson treating a triathelete for rotational restrictions in Kona, for the 2001 Ironman Triathalon.

The effectiveness of ART was seen during the 2001 World Championship Ironman Triathlon in Kona, Hawaii .

The ART team at Kona treated more than 1000 athletes prior to the event. ART practitioners worked with a broad range of injuries related to running, swimming and cycling.

This Ironman faced some of worst course conditions ever seen at Kona. Cyclists were literally blown off their bikes due to the high winds. Temperatures were high, and the sun hot!

Despite brutal conditions, this race had the largest number of finishing competitors in the history of Ironman.

Ironman race directors attribute this high level of race completion directly to the Active Release Technique treatments received by athletes prior to the event.
Where can I find more information about ART?
We have recently published the first book about Active Release Techniques, written specifically for the general public.
Release Your Pain - Resolving Repetitive Strain Injuries with Active Release Technique s® (ART®) is an informative, easy-to-read book, that helps you to understand the true cause of repetitive strain injuries.

Did you know that many common therapies (such as medication, physiotherapy, chiropractic treatment, massage, electrical muscle stimulation, rest, exercise, and surgery) have all failed to effectively resolve repetitive strain injuries. RSI sufferers are rarely able to find effective or complete treatment with these traditional treatments! Read Release Your Pain now to understand why these treatments often fail to solve your problem.
Common types of Running Injuries Treated with ART
Knee injuies
Foot injury
Hip injuries ,
Ankle
Calf injury
Groin injuries
Hamstring
Shoulder injuries
Back Injuries
| | |
| --- | --- |
| Read an information article about Running! | |
| | |
| --- | --- |
| Read this article.... | For information about... |
| Improve Your Running with Active Release Technique | How running injuries can be quickly identified and resolved using the ART methodology. |
| Running Injuries | How to increase your running performance and resolve common running injuries...quickly...so that you can return to peak performance capabilities. |
| Improve Your Athletic Performance with Active Release Technique | How ART was used to at the Ironman Triathlon Championships in Penticton and Kona, Hawaii to help resolve athletic injuries, improve performance, and assist athletes in completing these tremendously difficult events. |
| Plantar Fasciatis | Getting rid of that pain in your foot! |
| Repetitive Strain Injuries | How repetitive strain injuries occur, and what ART can do help resolve these injuries. ART has been proven to be 90% effective in the resolution of conditions such as Carpel Tunnel Syndrome....WITHOUT surgery! |
| ART and Sciatica | What is the real cause of Sciatica, and how Dr. Abelson experienced an amazing release from pain by applying the ART technique to his sciatica problem. |

Click the link above to go to the running page at www.drableson.com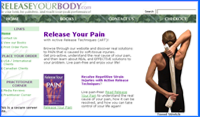 Click the image for information about Dr. Abelson's publications.
| | |
| --- | --- |
| Book an appointment! | |
| | |