The majority of headaches can be helped by Active Release Techniques® - ART . It is common for headache sufferers to experience neck pain and stiffness as well. A history of head trauma, whiplash, repetitive strain from postures associated with computer use and poor sleep postures may be associated with the pain. A thorough assessment can locate what may be causing your headaches.

Many patients are thrilled to have freedom from headaches because of Active Release Techniques

Where can I find more information about ART?
We have recently published the first book about Active Release Techniques, written specifically for the general public.
Release Your Pain - Resolving Repetitive Strain Injuries with Active Release Technique s® (ART®) is an informative, easy-to-read book, that helps you to understand the true cause of repetitive strain injuries.

Did you know that many common therapies (such as medication, physiotherapy, chiropractic treatment, massage, electrical muscle stimulation, rest, exercise, and surgery) have all failed to effectively resolve repetitive strain injuries. RSI sufferers are rarely able to find effective or complete treatment with these traditional treatments! Read Release Your Pain now to understand why these treatments often fail to solve your problem.
Understand the true cause of your pain, learn how it can be resolved, then use the specially designed exercises included in this book to prevent its reoccurrence.
Read our new book, Release Your Pain , to see how Active Release Techniques can help you with your injuries.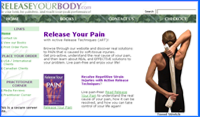 Click the image for information about Dr. Abelson's publications.
| | |
| --- | --- |
| How can ART resolve Headaches? | |
See the following topics for more information about ART:
| | |
| --- | --- |
| Download an information brochure for Headaches! | |
| | |
| --- | --- |
| Book an appointment! | |
| | |
To make an appointment at Kinetic Health in Calgary:

Phone: 403-241-3772
Fax: 403-241-3846
email: [email protected]