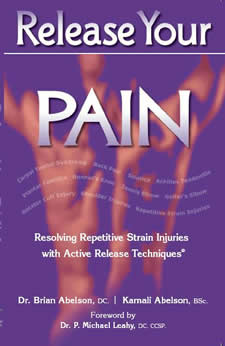 The First Book About Active Release Techniques Written For The Patient
Release Your Pain - Resolving Repetitive Strain Injuries with Active Release Technique s® (ART®) is an informative, easy-to-read book, that helps you to understand the true cause of repetitive strain injuries.
Did you know that many common therapies (such as medication, physiotherapy, chiropractic treatment, massage, electrical muscle stimulation, rest, exercise, and surgery) have all failed to effectively resolve repetitive strain injuries. RSI sufferers are rarely able to find effective or complete treatment with these traditional treatments! Read Release Your Pain now to understand why these treatments often fail to solve your problem.
Understand the true cause of your pain, learn how it can be resolved, then use the specially designed exercises included in this book to prevent its reoccurrence.
Read our new book, Release Your Pain , to see how Active Release Techniques can help you with your injuries.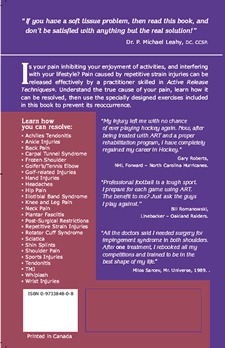 | | |
| --- | --- |
| Book an appointment! | |
| | |