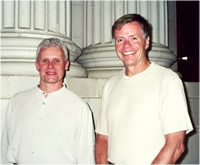 Dr. Brian Abelson and Dr. Michael Leahy
Read Dr. Abelson Blog on Active Release Techniques

Active Release Techniques Web Sites

Click Image for Active Release Techniques Web sites in Canada, USA or international.
Dr. Leahy, a Doctor of Chiropractic, is currently practicing in Colorado Springs, USA. He the founder of Champion Health Clinic and the respected inventor of Active Release Techniques®.
He is a graduate of the United States Air Force Academy and served as a fighter and test pilot. Dr. Leahy graduated summa-cum laude and valedictorian of Los Angeles College of Chiropractic in 1984 and became a Certified Chiropractic Sports Physician in 1986. For the past 15 years, Dr. Leahy has been proudly serving Colorado Springs area patients and their families. He has been a competitor in over 25 Ironman triathlons. He has a wonderful family and enjoys a multitude of interests.

Dr. Leahy began inventing Active Release Techniques in 1985 under the name myofacial release to help treat his patients more effectively and efficiently.
He teaches ART to physicians in many different disciplines around the world. His efforts have helped to improve many professional and world-class athletes from professional golfers, hockey, football, and multiple Olympic sports.
Aside from helping athletes, Dr. Leahy discovered and published the Law of Repetitive Motion and the Cumulative Injury Cycle which has helped redefine prevention and treatment of work-related injuries.
He created Champion Health to serve the patient needs and to work with their supporting medical team in order to achieve normal function and improved health.