| | |
| --- | --- |
| Our Philosophy | |
A t our clinic, we believe that any treatment protocol must address the body at many levels. We strongly believe in using an integrated approach to your health. We combine essential aspects of numerous disciplines to provide a comprehensive, multi-factorial approach to your treatment protocols that include manipulation, active release technique, massage, acupuncture, and nutrition.
We use Active Release Technique for a broad range of soft tissue injuries that require the identification and removal of restrictive adhesions within soft tissue. Affected soft tissues include muscles, tendons, ligaments, fascia, nerves and circulatory structures.
In conjunction with the Active Release Technique, we encourage our patients to participate in a physically active lifestyle that includes specific recommended exercises that strengthen and support weakened tissues. This process, combined with effective diets that assist the healing process ( by providing the fundamental building blocks of essential amino acids, vitamins, and minerals), allows us to bring rapid resolution to a broad range of soft tissue injuries.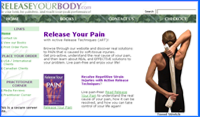 Click the image for information about Dr. Abelson's publication.
| | |
| --- | --- |
| Our Location | |
Kinetic Health - Edgemont Soft Tissue Management Systems in located at:
# 34 Edgedale Drive NW
Calgary, Alberta, Canada, T3A-2R4

Phone: 403-241-3772
FAX: 403-241-3846

| | |
| --- | --- |
| Book an appointment! | |
| | |
Note: We provide information about our clinic for your benefit. This site does not imply "superiority" of any technique over other procedures.