What is a Rotator Cuff Injury?
Read Dr. Abelson Blog on Frozen Shoulder

THIS PAGE IS UNDER DEVELOPMENT. STAY TUNED FOR MORE INFORMATION!

IN THE MEANTIME, CHECK OUT THESE RELATED TOPICS:
| | |
| --- | --- |
| How can ART resolve Rotator Cuff Injury? | |
See the following topics for more information about ART:
Where can I find more information about ART?
We have recently published the first book about Active Release Techniques, written specifically for the general public.
Release Your Pain - Resolving Repetitive Strain Injuries with Active Release Technique s® (ART®) is an informative, easy-to-read book, that helps you to understand the true cause of repetitive strain injuries.

Did you know that many common therapies (such as medication, physiotherapy, chiropractic treatment, massage, electrical muscle stimulation, rest, exercise, and surgery) have all failed to effectively resolve repetitive strain injuries. RSI sufferers are rarely able to find effective or complete treatment with these traditional treatments! Read Release Your Pain now to understand why these treatments often fail to solve your problem.
Understand the true cause of your pain, learn how it can be resolved, then use the specially designed exercises included in this book to prevent its reoccurrence.
Read our new book, Release Your Pain , to see how Active Release Techniques can help you with your injuries.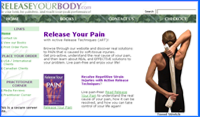 Click the image for information about Dr. Abelson's publications.
| | |
| --- | --- |
| Book an appointment! | |
| | |