Where can I find more information about ART?
We have recently published the first book about Active Release Techniques, written specifically for the general public.
Release Your Pain - Resolving Repetitive Strain Injuries with Active Release Technique s® (ART®) is an informative, easy-to-read book, that helps you to understand the true cause of repetitive strain injuries.

Did you know that many common therapies (such as medication, physiotherapy, chiropractic treatment, massage, electrical muscle stimulation, rest, exercise, and surgery) have all failed to effectively resolve repetitive strain injuries. RSI sufferers are rarely able to find effective or complete treatment with these traditional treatments! Read Release Your Pain now to understand why these treatments often fail to solve your problem.
Understand the true cause of your pain, learn how it can be resolved, then use the specially designed exercises included in this book to prevent its reoccurrence.
Read our new book, Release Your Pain , to see how Active Release Techniques can help you with your injuries.
Read our latest articles!
Our articles are published in numerous magazines, websites, and professional organizations. Click the following links to read the latest articles we have published about ART!
This article....
Published in...
Core Stability
Ironman Alive - March 2003
Understand how Core Stability affects the performance of all sports, and how ART can help you to attain better core stability.

Achilles Tendonitis

Ironman Alive - February 2003
Understand the causes of achilles tendonitis, and how ART can rapidly resolve this condition.

Swimmers Shoulder

Ironman Alive - January 2003
Understand how swimmers shoulder can affect performance and speed, and how ART corrects this condition.
| | |
| --- | --- |
| Download Articles | |
Dr. Abelson has authored numerous articles published in magazines across Canada. These articles deal with methods for enhancing sports performance, eliminating repetitive stress injuries, as well informative pieces about Active Release Technique. You can download and review all these articles from this site.
| | |
| --- | --- |
| Read this article.... | For information about... |
| Skating and ART | How ART helped Olympic Gold Medal athletes Jamie Sale and David Pelletier overcome injuries and attain gold medal status. |
| Swimmers Shoulder | The cause of swimmers shoulder, and how ART can quickly resolve long-standing problems, and increase swimming performance. |
| Improve Your Running with Active Release Technique | How running injuries can be quickly identified and resolved using the ART methodology. |
| Improve Your Athletic Performance with Active Release Technique | How ART was used to at the Ironman Triathlon Championships in Penticton and Kona, Hawaii to help resolve athletic injuries, improve performance, and assist athletes in completing these tremendously difficult events. |
| ART and Sciatica | What is the real cause of Sciatica, and how Dr. Abelson experienced an amazing release from pain by applying the ART technique to his sciatica problem. |
| Improve Your Golf Swing with Active Release Technique | How you can increase performance in Golf by ensuring proper body mechanics are in effect. ART can remove the adhesions that restrict body motions, and provide up to 20% increase in your golf swing. |
| | |
| --- | --- |
| Download Acrobat Reader | |
These brochures and articles are provided in Adobe Acrobat PDF format. You can download a free version of Acrobat Reader from the following site:
| | | |
| --- | --- | --- |
| | http://www.adobe.com/products/acrobat/main.html | |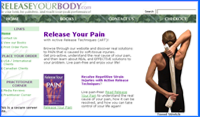 Click the image for information about Dr. Abelson's publication.
| | |
| --- | --- |
| Book an appointment! | |
| | |