ART at our Clinic

We use Active Release Techniques for treating over 95% of our patients, and have a proven success rate that exceeds 90% for a broad range of conditions.
A large percentage of our patients suffer from repetitive strain injuries, carpal tunnel syndrome, frozen shoulder, elbow pain, back pain, knee injures, and a wide variety of other musculoskeletal conditions throughout the body. We have a proven success rate that exceeds 90%.
Many of our patients also see us for performance care. This care is specifically directed at improving athlete performance and injury prevention. Many of these patients are both amateur and professional athletes, and include Olympic athletes.
When a patient comes into our clinic, we expect results. After only two to three visits we expect to see your strength, speed and endurance of the affected area improve. To develop strength and flexibility, we provide our patients with specific exercises that are essential to your rehabilitation.
If you don't show improvement, we know the root cause of the problem has not been discovered, or that further strength in the area must be developed.
Our goal is to resolve your condition. We do not perform endless treatments without results. Over 90% of our patients require only 2-8 patient visits. Of course this success rate also requires the patient to follow our advice on rehabilitative exercises.
Diagnosing Soft-Tissue Conditions
In order to achieve a high level of results when treating soft tissue conditions, our diagnosis must be extremely specific about the nature of the lesion, the exact tissue involved, and the syndrome it has caused.
Many soft tissue diagnosis are vague and inaccurate. Examples of nonspecific diagnosis include "Carpal Tunnel Syndrome, Tennis Elbow, or Plantar Fasciitis". All of these diagnosis are nonspecific and will be interpreted and treated differently by different Practitioners. Our goal is to be as accurate and specific with the diagnosis as possible.
During our diagnostic procedures we:
Perform established medical orthopedic and neurological examinations.
Establish the nature of the lesion.
Identify the exact tissues involved.
Determine the syndrome it has created.
We focus on four fundamental areas of soft tissue diagnosis:
Tissue texture
Tissue tension
Tissue movement
Tissue function
Treating Injuries with ART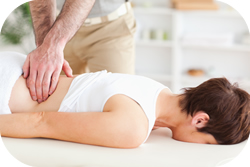 After establishing an accurate and specific diagnosis, we treat our patients with specific hands on soft tissue manipulation.
Once the lesion has been found, we take the involved tissue from a shortened to a fully lengthened position, while the doctor's hand moves in the same longitudinal direction as the soft tissue fibers to remove the adhesions.
Each movement performed in ART is done in the same direction as the tissue fibers, lymphatic, and venous flows to effectively break up adhesions, prevent bruising, and prevent further inflammation.
90% of the treatment is performed during the last 10% percent of motion. This is when we break up the greatest number of restrictions.
"The correct touch in ART cannot be taught out of a book. It is learned directly from qualified instructors, and requires years of hands-on experience!"
It is extremely important that all motions using ART are performed at a very slow rate. Fast motions increase patient pain and make for a less effective treatment.
Whenever possible, we ask our patients to perform active motions, as instructed by the doctor.
Patient motion must be very specific and slow to meet the requirements of the hundreds of different protocols that we execute.
Active release technique has very specific guidelines on how soft tissue should be treated.
Injuries We Treat With ART
We can help you deal with a broad range of soft tissue injuries including the following:
Arthritis
Bicepital Tendonitis
Bursitis
Compartment Syndrome (Chronic)
De Quervains's Tenosynovitis
Gait Imbalances
Hammer Toes
Impingement Syndromes
Joint Dysfunction
Muscle Pulls or Strains
Muscle Weakness
Myofascitis
Post-surgical Scarring and Adhesions
Rib Pain
Scar Tissue Formation
Sports Injuries
Tendinitis
Thoracic Outlet Syndrome
Throwing Injuries
Weight Lifting Injuries